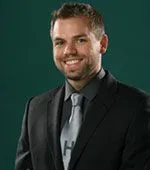 Dr. Carlson specializes in the evaluation, treatment and management of eye disorders and vision problems in children and adults with strabismus, amblyopia and eye alignment problems. He emphasizes pediatric care, but is open to see patients in all age groups.
Dr. Matthew Carlson completed his Bachelors of Science at Linfield College in Oregon. He received his Doctor of Optometry degree from Pacific University in Forest Grove. While attending Pacific University, Dr. Carlson worked as clinical lab instructor and also worked as an Ophthalmic Technician and Optician. He completed his pediatric externships at Pacific University College of Optometry and Northwest Pediatric Eye Care. Upon completion, Dr. Carlson was offered a full time position at Puget Sound Eye Care where he has worked alongside Dr. Melvin Carlson.
In addition, he is an active member of the Optometric Physicians of Washington, American Optometric Association, and the Special Olympics of Washington. He received the Tole Greenstein Award for exceptional performance in areas of binocular vision, vision therapy and pediatric vision.
In his spare time he also enjoys outdoor activities such as running, cycling, boating, and catch and release fishing.