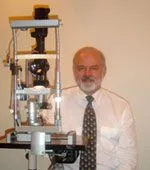 Dr. Carlson specializes in the evaluation, treatment and management of eye disorders and vision problems in children as well as adults with strabismus or eye alignment problems.
After completing his undergraduate and medical training at the University of Washington, Dr. Carlson under went specialty training in ophthalmology at the Jules Stein Eye Institute at the University of California in Los Angeles. He advanced his training through his pediatric ophthalmology and strabismus fellowship with Dr. Arthur Jampolsky at the Smith-Kettlewell Institute of Visual Science in San Francisco.
Upon his successful completion of his specialty fellowship and board certification, Dr. Carlson entered private practice in Seattle in 1978. He is an active member with many professional associations and the author of numerous publications in the field of ophthalmology and his subspecialty in pediatric ophthalmology and strabismus.
In addition, Dr. Carlson serves as an Associate Clinical Professor of Ophthalmology with the University of Washington School of Medicine. Dr. Carlson has been repeatedly recognized by The Best Doctors in America publication and Seattle Magazine as one of the best ophthalmologists as determined by Dr. Carlson's medical peers.
*Dr. Melvin Carlson has retired and is not currently seeing patients.*